Facebook + Instagram = Sucess
May 31, 2017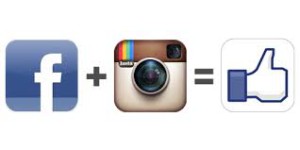 Facebook and Instagram are two of the most popular mobile platforms. In fact, one in five minutes on mobile is spent on Instagram or Facebook. That's more than the next 10 mobile platforms combined. So why aren't you advertising on them? These days it's easier than ever to create and use ads on both platforms!
It all started when Instagram began offering the use of ads to businesses on Instagram back in the fall of 2015. Marketers use Instagram to tell visual and creative stories related to their business and ads can be a BIG part of that. Like Facebook ads, Instagram ads feature photos or videos and use Facebook targeting. But Instagram took things a step further by enabling their ads to link with Facebook ads for smooth, across-the-board performance.
Advertisers can add Instagram ads to Facebook ad campaigns through both Ads Manager and Power Editor by simply checking the "Instagram" box under the ad set's Placement section. And businesses have seen that doing so helps them reach more people with little added effort. Instagram ads that are available through Facebook ad management tools support both brand awareness and direct response objectives, including website clicks, mobile app installs and video views. And soon Instagram ads bought through the same tools will be available with more objectives, including website conversions. And campaigns that ran across both Facebook and Instagram resulted in similar or better performance for website clicks, website conversions, video views and mobile app installs than those that ran on just one.
What are you waiting for? If you're a small business using Facebook & Instagram (and we hope you are!), this is a perfect opportunity for you to create new leads and increase sales. Setting up ads has never been easier and with the way these ads work, they can be quite cost-efficient as well. Go explore, create, and knock 'em dead!
Need some help getting started? Give us a call at 973-265-2833 or contact us HERE!
Comments