Understanding and Overcoming The Hurdles Of Social Media Misconceptions
November 2, 2011
I'm someone who lives, breathes, sleeps social networking. I know the potential social media has for businesses and it doesn't matter what industry your in, if you use social networking sites effectively. One of the most frustrating parts of being a social media representative is trying to explain the ROI of social networking and overcome the misconceptions that are constantly being spread about social media and its effectiveness.
As a social media representative I hear so many of these misconceptions everyday and finding the ROI on social networking is one of the biggest problems in the industry. Since it's important for any business to use social networking I want to tackle the three most common misconceptions I hear and how to "jump over" the social networking hurdle and make it to the finish line, successfully!
1. "Social Networking Is Too Time Consuming For Business"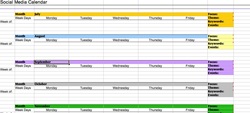 I love this misconception because, I will challenge anyone who thinks they don't have time to log on to Facebook, Twitter, LinkedIn at least twice or three times a week (at the least!). I understand a busy schedule. I am a full time undergraduate student and a full time business owner with six employee's spread out between two states. Time is of the essence every moment of the day, but I know social networking is key for my business and my customers businesses.
How I manage everything is by creating a social media schedule. I print out a calendar for the week and block off specific times for social networking.
Sometimes it's when I get up in the morning, other times I will schedule time blocks on my lunch breaks or even at the end of the day. I find that scheduling blocks of time forces me to update my social media sites and whether it's my own business or my customers it is important to focus on daily updates which takes me a few minutes everyday if I block out times effectively.
Here is a great link to some examples and suggestions for social media calendars
First Hurdle, Complete.
2. "I Don't Want To Jeopardize My Privacy And I Am Scared Of My Information Being Out On The Internet"
Another misconception I love "jumping over!" I respond to this statement by asking my clients if they have a website. I would say 70% of the time my clients say yes. I then ask if their personal information is published on their website? Again, usually the answer is yes. I try to advise my clients that they should not be worried about the privacy of social networking sites if they have a website with their personal information published on the internet. Your information is going to be out there, yes. There is no denying the fact that your information will be published, but you control how much you publish and what is shared with who. If you have have a website your already on the internet so why not get on social networking sites and use the free advertising and marketing to your advantage? If a client really hesitates to put their personal information on their social networking sites I stress the importance of at least having a business page and leaving out personal information. Although a personal social media presence is most effective, having a business social media presence is key to marketing online effectively.
Second Hurdle, Complete.
3. "Social Media Is Just For Pleasure And It Doesn't Have Business Potential For My Industry. Especially Because I Can't Measure The ROI"
It is true, social networking sites are a place to connect with friends, family, and acquaintances, but it is also a place to target your niche audience and connect with them on a more personal level. People are unintentionally logging onto Facebook, Twitter, LinkedIn, and Google+ and making connections to people with similar interests. They then begin to develop a social media relationship and use the information on social networking sites to judge their views on that company.
Making a connection with your target audience and presenting them with inspirational, conversational, yet business related posts will allow your businesses social networking presence to have a business environment with the intent for pleasure.
This social media presence is most effective although it takes time to develop and build.
Secondly, yes it is very hard to measure ROI with social media, but there are ways to judge it's effectiveness. One way my clients judge their ROI by creating specific links for each social networking sites. Allow me to explain. One of my clients- Ryan Video Productions– is hosting a seminar in January of 2012. They are allowing their friends, fans, and connections to sign up via social networking. Ryan Video Productions created a separate link for Facebook, Twitter, and LinkedIn so if someone signs up through Facebook, Ryan Video Productions will know that person signed up through Facebook because of the customized link. This is a great way to see where your customers are coming from and now every time some registers for the upcoming seminar my customer can see how effective Facebook, Twitter, and LinkedIn really is. If this seems like too much work you can also post a question on your website- "Where did you hear about us?" Which is a simple way to track your progress. You can also post contests on social networking sites such as "Share this post and the first 5 people will receive 10% off this months services" or "Retweet and you will get a discount on your next transaction." Although this may entice people to share or comment it is interesting to see who's reading and who's responding to posts. Lastly, the old fashion way- using word of mouth. Ask your customers if they saw your social networking pages and give them permission to comment and share their opinions. The more you talk about your social networking pages the more inclined your customers will be to check it out.
YOU MADE IT TO THE SOCIAL MEDIA FINISH LINE!
Social networking can be confusing, overwhelming, and darn right frustrating. Take the time to build up your presence and take each social media hurdle one step at a time. It may be time consuming at first and hard to judge it's ROI, but in the end it is free advertising and it is important to utilize these tools in this economy.
If you have any social networking questions or you need a social networking representative to manage your social media presence please don't hesitate to give us a call 973- 265- 2833.
Comments