Scare Up Fun and Spooktacular Sales This Halloween!
October 28, 2015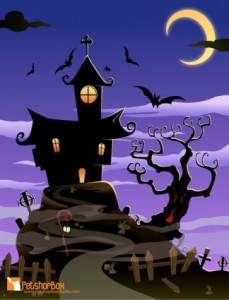 Halloween is right around the corner. One of the world's oldest holidays, Halloween is celebrated in many countries in many different ways – honoring lost loved ones, preparing for the new harvest season, dressing in costumes and celebrating with friends and family. Where did Halloween even come from? It's thought to have originated with the ancient Celtic festival of Samhain, when people would light bonfires and wear costumes to ward off roaming ghosts. In the eighth century, Pope Gregory III designated November 1 as a time to honor all saints and martyrs; the holiday, All Saints' Day, incorporated some of the traditions of Samhain. The evening before was known as All Hallows' Eve and later Halloween. Over time, Halloween evolved into a secular, community-based event characterized by child-friendly activities such as trick-or-treating. With all the Halloween festivities and excitement going on plus the added advantage of Halloween being a visual holiday, it's no surprise that Halloween is one of the BEST times to connect with your customers! But how?
Did you know Halloween is the second biggest holiday event in the U.S., where nearly $7 billion is spent on Halloween activities? It's also the kick-off to the huge holiday season that's so crucial to small businesses. This makes Halloween the perfect time of year to reach out to customers and prospects, but with everyone competing for attention you want to make sure you stand out from the crowd. So what's the plan?
Halloween is an entirely visual holiday and one that the entire family (pets included!) likes to get involved in. So get in the spirit! People love sharing photos of their costumes and decorations, and they also want to participate in promotions that are Halloween themed. Host a photo contest for best costume or best PET costume online and have people like and share your page to vote. Doesn't matter if you don't run a business that exactly ties into Halloween – the prize can be whatever.
Another idea for a business that may not sell anything Halloween related is COUPONS. People love coupons. People also love businesses – especially small businesses – that get into the Halloween spirit. Create a mailer that is Halloween themed and offer a discount for shopping near Halloween. You also could offer a discount to anyone coming in wearing a costume on Halloween.
One final idea for partaking in Halloween – no matter what you sell, consider the uses. If you're a small hardware store that sells things like reflective tape, flashlights or glow sticks, then do a promotion with those products, tying them into Halloween safety.
There's ALWAYS something you can do to reach potential prospects and customers. So get into the Halloween Spirit and scare up some sells!
Comments