2013 Was a Year Full Of Social Media Marketing Successes – Now What Does 2014 Have To Offer?
January 8, 2014
2013 Brought Many Social Media Marketing Success Stories and Statistics. What Does 2014 Have In Store For The Social Networking Universe?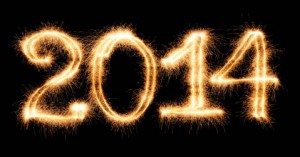 As you know, social media marketing is forever changing with new trends, interests, and opportunities emerging every day. With the new year comes new ways to market your business to past, current, and potential clients.
Before I talk about what you can do in 2014, let's take a look back at 2013. Here are some interesting statistics Alicia Lawrence, online PR specialist for WebpageFX, reveals in her blog "The 12 Social Media Marketing Stats of 2013":
• 74 percent of marketers saw an increase in traffic after dedicating only six hours per week on social media sites
• 50 percent of Internet users are active on Facebook
• 52 percent of marketers gained a customer through Facebook and 35 percent have done so through Twitter
• 54 percent of Facebook users access the site on a mobile app
• Social media popularity is growing with older age groups
• 68 percent of Americans say social media plays a role in their purchasing decisions.
Surprised by these numbers? I'm not. This reported growth is indicative of the effectiveness of social media marketing. A new year brings new opportunities for growth, improvement, and changes. Have you created your online marketing plan for 2014?
If not, you can start right now. Begin with an analysis of what you tried, what worked, what failed, and what you have yet to accomplish. Identify your areas of strength, know who and where your audience is, and set goals for areas for improvement. Try something new. If your social media marketing efforts are working on the platforms you currently use, don't be afraid to try another site. Research sites for your target audience industries and know where your audience is looking to communicate. Build your online identity and devote time to communicating with your audience. Finally, create a month-by-month plan outlining the steps to improve your efforts to reach your goals over the next 12 months.
At
Social Marketing Solutions, LLC
we understand that social media marketing can be overwhelming. If you would like to enhance your social media presence in 2014, give us a call. One of our social media representatives would be happy to discuss your needs and answer your questions.
We look forward to assisting you!
For a free no-obligation consulation please contact:
Owner and Social Media Expert
973-722-3469
Kelly@SocialMarketingSolutionsLLC.com
Comments