What's Periscope, You Ask?
September 25, 2015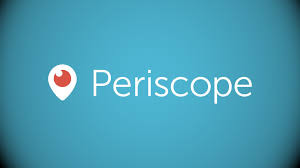 Kids these days with their 801 million social platforms – am I right? (Whatever happened to the days of MySpace and LiveJournal)? It can be hard to keep track of it all and know whether you should be utilizing each one in your marketing campaigns (the answer is no, by the way. You do not need to use every single one that comes along). Sometimes though, a platform comes along that catches your attention and makes you think about all the ways you could integrate it into your advertising. That's where Periscope comes in!
Periscope is a live-streaming video mobile app that Twitter purchased in February 2015. Twitter then rolled it out to the public on March 26, 2015. Basically what Periscope allows you to do is broadcast "live" from your smartphone from any location, at any time of the day or night. And viewers can tune in to your broadcast from anywhere in the world and chat with you in real time while you broadcast (they type in questions/messages which pop up on your phone's screen, which you can then answer verbally). Yes, there are a couple of other networks like this out there right now but Periscope is currently the No. 1 fastest-growing social network to date! Have a look at these numbers: 1) Periscope hit 1 million users in 10 days and 2) Periscope hit 10 million users in 4 months. Wow! Even more staggering than the size of this user base is the amount of content users are consuming: 40 years of content is viewed every day on Periscope. Yes . . .40 years. Unbelievable!
So you know there's absolutely an audience there, at the ready, just waiting for you to press "record"…but what are you going to do during a "live" stream? Here's a few thoughts to get you started:
1) Live product demos – Are customers always wondering how a certain product of yours works or have a new product coming out? Set up a Periscope broadcast and show 'em exactly how it's done! So do an interactive product demonstration by answering pertinent questions from viewers. Showcase cool product features, packaging, etc.
2) Behind-the-scenes look into how your product is made or what your offices look like – People love the idea of " being on the inside" and showing them the magic that happens behind-the-scenes is a fabulous way of humanizing your brand. Not only are you letting people see the art on your office walls but they're seeing you and your employees faces and now have an idea of with whom they're actually dealing. Periscope takes the business/consumer experience and makes it very personal by having the consumer connect with a real person, which in turn builds the "know, like and trust" factor at a faster rate.
3) Live events – Having a live event that not everyone in your fan base can attend? Stream it on Periscope and let everyone know ahead of time when it'll be showing.
4) Expand your fan base – Periscope opens up a big, wide world of new people with whom to interact. Once you start interacting on a regular basis here, you can then start adding people to Facebook or your mailing list, etc.
What do you think? Ready to take the plunge and give Periscope a whirl? Or even just dip in a toe and do something small just to see what it's about? Video is essential for marketing as the world has become a visually driven place. As we get more and more "now, please!", I suspect live-streaming will only get bigger and bigger. Happy broadcasting!
Comments