Keeping it Fresh
August 20, 2015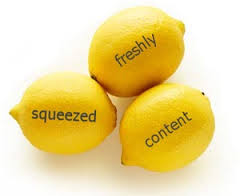 When's the last time you updated your website? A lot of small businesses will build their website and then never touch it again unless it's to add a special or update the contact information or the such. It could be because they just don't think about it with everything else they have going on. It may be that there simply isn't enough time. Or maybe they don't even see the point. We're here to tell you that big OR small, your website should have steady content updates to boost your business' online marketing.
First off, let's discuss content. Content isn't just the copy on your site. Content is anything that acts as a communication tool: images, videos, newsletters, social media and even design are all examples of website content. Updating is starting to sound a lot easier all of a sudden, huh? You can post blogs weekly or connect your Twitter feed so that it updates automatically to your site. Maybe post videos of product demonstrations or photos of "behind the scenes" at work. Do whatever fits your company's personality best so long as you remember that content = practically anything!
Why update frequently? Having fresh content tells the consumer that you have a personal investment in your services or product. If YOU believe in what you do, it's easier for them to believe in you. Having new content of good quality on a continual basis also turns visitors into repeat visitors and that is exactly what you're looking for. Need even more reasons? How about SEO? Search engines have undergone recent algorithm changes that equate bringing sites with fresher content to the top of the search list. If you want to be on top on Google, you'll need to stay on top of your website.
If you're still having some doubts about whether you can keep a stream of content coming, here are some ideas you might consider. Ask your customers what they want to know about and write blogs about that or host an informal "talk show" of sorts. Giving your clientele exactly what they want has probably never hurt anyone before! Have something that was a hit in the past? Use it as inspiration. Make a Part II or drag an idea out of it to use. If you're still having trouble, with writing at least, you can hire someone to write blog posts for you on a steady basis. If you're working with someone like us here at SMS, it's incredibly reasonably priced and tailored to your needs, making your life much easier.
Remember, content is important. Keep it coming and keep it fresh! Have an idea of your own you want to share? Leave us a comment below!
Comments